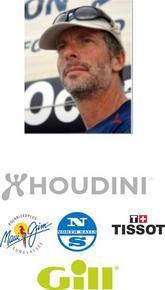 Anders basic sailing knowledge is within both dinghy and yacht racing, working as a professional sailor for various sailing teams, sponsors and the Swedish National Sailing Team.

Anders is a sailmaker and sailor. He is a part owner and salesman at North Sails Sweden and working with Lewander Yachting AB giving international talks, seminars and regatta support.
Modern sailmaking includes a work towards the market including giving lectures, marketing, support and technical advice. The internal work is under consistent development with scientific work to develop designs, performance and products. The part of Anders customer management job at North Sails is like a big sail racing program.
North Sails Sweden won a price as The Best Company on Lidingö, and have been supplier to project such as the two boats EF – winner of Whitbread 1999, Team SEB – Volvo Ocean Race 2002, Illbruck – Americas Cup 2002, UITG 2005-07 and Ericsson Racing Team 2008-09.
Anders have been a skipper in Volvo Ocean Race, National Team Boats and have been sailing as a skipper and project manager full time professional in Australian 18ft Skiff Grand Prix. During the Australian period was Anders responsible for sail development for the new Olympic Class 49er and recent several other small and big boat projects.
Anders have been practicing Yoga for 10 years and is ISHTA Trained 230h Teacher Training, Yoga Alliance certified.
Founder of nuvara.se and sailorsyoga.se
Disciple of Guru Dhyan Vimal. www.dhyanvimal.com
RESULTS IN BRIEF
Sailmaker since 1982. Part owner of North Sails Sweden since 1994. Diet Coke 18ft Skiff Grand Prix -93, -94, -95. 49er National Swedish Team -97, -98, -99. Archipelago Raid Winner. Non stop round the world in ORYX on Cheyenne/Playstation 2005. Skipper Volvo Ocean Race 2008-09, Ericsson 3. Currently racing in the Fast 40 Class in England. Over the years many podium places in yacht races as skipper or crew or coach.